Regular price
$78.00 USD
Sale price
$29.99 USD
Unit price
per
Sale
Sold out
Finally! The Quickest Way To Get A Perfect White Smile Without Spending A Fortune...

By using once per day, you can remove coffee or food-related stains, all while on the go!
Whitens in 

under 1 minute.



Flexible brush tip for hard to reach areas
Whiten all teeth or a specific tooth for touch-ups
Compact 5" pen

 

fits in any pocket or purse

Use 1-2 times per day for best results

How does it work?
With the help of all natural teeth whiteners combined with hydrogen peroxide, our Teeth Whitening Gel attacks common stain molecules and removes them completely.

This Whitening Gel formula is proven to be one of the best for teeth whitening and used by dental professionals when working on whitening patients teeth. 

- This Advanced Formula Whitening Gel removes 100% coffee, wine, tobacco and other common stains without damaging enamel and creating a stain repellent barrier for weeks after use.

No Longer Limited To Only Professional Dentists...
As This Formula Has been used by dentists for years this breakthrough technology is now available to the public.

No need to pay thousands of dollars in treatments, we've revolutionized the way you can whiten your smile from home!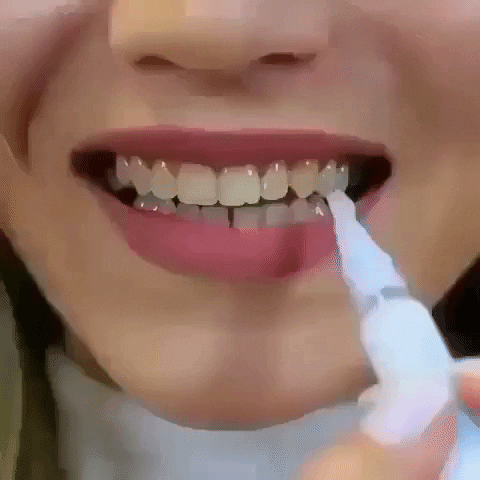 Are You Ready For Your Brilliant White Smile?
Our pocket-sized Whitening Pen makes it easy for you to take it with you everywhere you go. In only 1 minute, you can whiten your teeth gradually to maintain your smile! 
🌏 FREE WORLDWIDE DELIVERY ✈
View full details
Teeth Whitening Pen
It was a long wait but I finally received my teeth whitening pens. I love them!
AMAZING STUFF...IT REALLY WORKS!
This product is one of the best teeth whitening product I've used! I have extremely sensitive teeth & was nervous this would be uncomfortable; but to my surprise it wasn't! It's also easy to take along with you on trips, to work, anywhere! It has removed my stain on one of teeth that was bothering me, & my dentist noticed! It's affordable & effective!
No sensitivity and quick whitening in a week
This is super easy to use! I keep one pen in my desk at work and one at home. No sensitivity...and I naturally have very sensitive teeth! So this is a big deal for me. I failed to take a before pic. I could tell a change for sure from darker stains between my teeth in front that are now gone after only a week. 🤗
Best teeth whitening pen for the sensitive teeth
This teeth whitening pen is really good.... I have tried many other brands which gave me terrible teeth sensitivity only after one use...this is the best one so far. You will have to use every single day until your teeth get white then weekly twice should be good... This is my honest review
Definitely Buying again!
By far one of the best products I've purchased on Redbovi! It INSTANTLY whitened my teeth, it was so easy and so much more affordable then if I went with the options my dentist gave me the cheapest was around $150 smh! The product hardly has a taste and is so easy to use I haven't stopped smiling since 😁 I even recommended this product to the receptionist in my dental office 😆